[an error occurred while processing this directive]
[an error occurred while processing this directive]
[an error occurred while processing this directive]
[an error occurred while processing this directive]
work at home tip:
[an error occurred while processing this directive]
reader's choice:
[an error occurred while processing this directive]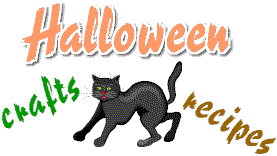 It's that time of year again.....Halloween. Sometimes I wonder if adults enjoy the festivities more than the kids. We've found some fun crafts you can do with your children and some yummie ghoulish recipes. Enjoy!
G r o s s H a l l o w e e n
P a r t y F o o d

Kitty Litter Cake

1 spice or German chocolate cake mix
1 white cake mix
1 large pkg vanilla instant pudding mix
1 pkg vanilla sandwich cookies
Green food coloring
12 small Tootsie Rolls
1 new (and definitely unused) kitty litter pan
1 new plastic kitty litter pan liner
1 new Pooper Scooper

Prepare cake mixes and bake according to directions (any size pans). Prepare pudding mix and chill until ready to assemble. Crumble white sandwich cookies in small batches in food processor, scraping often. Set aside all but about 1/4 cup. To the 1/4 cup cookie crumbs, add a few drops green food coloring and mix using 5. When cakes are cooled to room temperature, crumble into a large bowl. Toss with half the remaining white cookie crumbs and the chilled pudding. (Mix in just enough of the pudding to moisten it. You don't want it soggy. Combine gently).

Line new, clean kitty litter box. Put mixture into litter box. Put three unwrapped Tootsie rolls in a microwave safe dish and heat until soft and pliable. Shape ends so they are no longer blunt, curving slightly. Repeat with 3 more Tootsie rolls and bury in mixture. Sprinkle the other half of cookie crumbs over top.

Scatter the green cookie crumbs lightly over the top. (This is supposed to look like the chlorophyll in kitty litter.) Heat 3 Tootsie Rolls in the microwave until almost melted. Scrape them on top of the cake; sprinkle with cookie crumbs. Spread remaining Tootsie Rolls over the top; take one and heat until pliable, hang it over the side of the kitty litter box, sprinkling it lightly with cookie crumbs. Place the box on a newspaper and sprinkle a few of the cookie crumbs around.


Day Old Bath Water

12 ounce Can frozen lemonade
2 liters 7-Up
1/2 gallon Rainbow sherbert

Thaw sherbert for approximately 15 minutes and place in a plastic tub. Add lemonade (prepared according to directions) and 7-up. Sherbert will melt and turn mixture day old bathwater grayish-brown. Float a handful of green, yellow and white tiny after dinner mints (tiny bars of soap) on top of the scummy punch.


Strained Eyeballs

6 hard boiled eggs
6 oz Whipped cream cheese
7 oz Green olives -- with pimientos
Red food coloring

Peel eggs cut in half lengthwise. Remove the discard yolks. Fill the holes with cream cheese. Press an olive into each cream cheese eyeball, pimiento facing up, for an eerie green iris and startling red pupil! For a final touch, dip the tip of a toothpick in red food coloring and draw broken blood vessels in the cream cheese.

For even more gross halloween recipes - visit Parenting Humor, who graciously provided the above "goodies" for our use.