[an error occurred while processing this directive]
[an error occurred while processing this directive]
[an error occurred while processing this directive]
[an error occurred while processing this directive]
work at home tip:
[an error occurred while processing this directive]
reader's choice:
[an error occurred while processing this directive]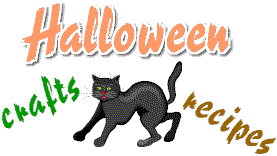 It's that time of year again.....Halloween. Sometimes I wonder if adults enjoy the festivities more than the kids. We've found some fun crafts you can do with your children and some yummie ghoulish recipes. Enjoy!
F u n F o o d s & R e c i p e s
f o r K i d s

Ghost Cookie

Using peanut shaped cookies, spread with white frosting or marshmallow fluff, add chocolate chips for eyes and nose.

Witches Brew

Mix up a batch of lemonade from concentrate. Add green food coloring to the lemonade to give it a spooky look. Get a plastic witch's cauldron and place a piece of dry ice in it. Pour the brew over the dry ice and watch your kid's delight.

Ghost Cookies

Dip Nutter Butter cookies in white chocolate and let completely dry. Then let the kids decorate the face with cake mate frosting or chocolate chips.

Potato Ghosts

Hand sculpt mashed potatoes to look like a ghost. Place them on an oiled cookie sheet, brushed with melted butter, and put in the oven to heat and brown a little. You can serve it with bat shaped meat loaf (using a bat cookie cutter).

Pumpkin Faces

Ingredients:

English muffins
Orange spreadable cheese
Raisins

Directions:

Let the children spread the cheese on the English muffin. Let them arrange the raisins to make the eyes, nose, and mouth.

Spooky Sandwich Puzzles

Let the children make their own peanut butter sandwiches with two pieces of bread. Give each child a Halloween cookie cutter and let them press the shape out of the center of their sandwich. They will now have a "spooky sandwich puzzle."
"Hand" Snacks

Ingredients:

Clear food server gloves (one for each child)
Popcorn
Candy corn
Yarn

Directions:

Take one of the food server gloves and place a candy corn in each of the fingers. Fill the rest of the glove with popcorn. Fasten the top of the glove with yarn. Make a glove for each child in your class.
Monster Cookies

Ingredients:

Oatmeal cookies
Candy corn
Chocolate chip pieces
Raisins

Directions:

Each child creates a monster cookie by making a face on an oatmeal cookie (can be precooked or store bought cookies) by using candy corn, chocolate chips, marshmallows, raisins, etc. Place the cookies on a cookie sheet and place in a hot oven just long enough for the faces to melt. This creates truly monster faces.

Ghost Toast

Ingredients;

Loaf of bread
Margarine
Shredded coconut
Raisins
Chocolate chips

Directions:

Each child makes ghost toast by spreading margarine to make faces on toast then sprinkling coconut on it. Put raisins or chocolate chips for eyes and mouth. Toast.
Thank you to Jenny from ChildFun for providing the above recipes. Be sure to visit the ChildFun website for more recipes, crafts and halloween goodies.